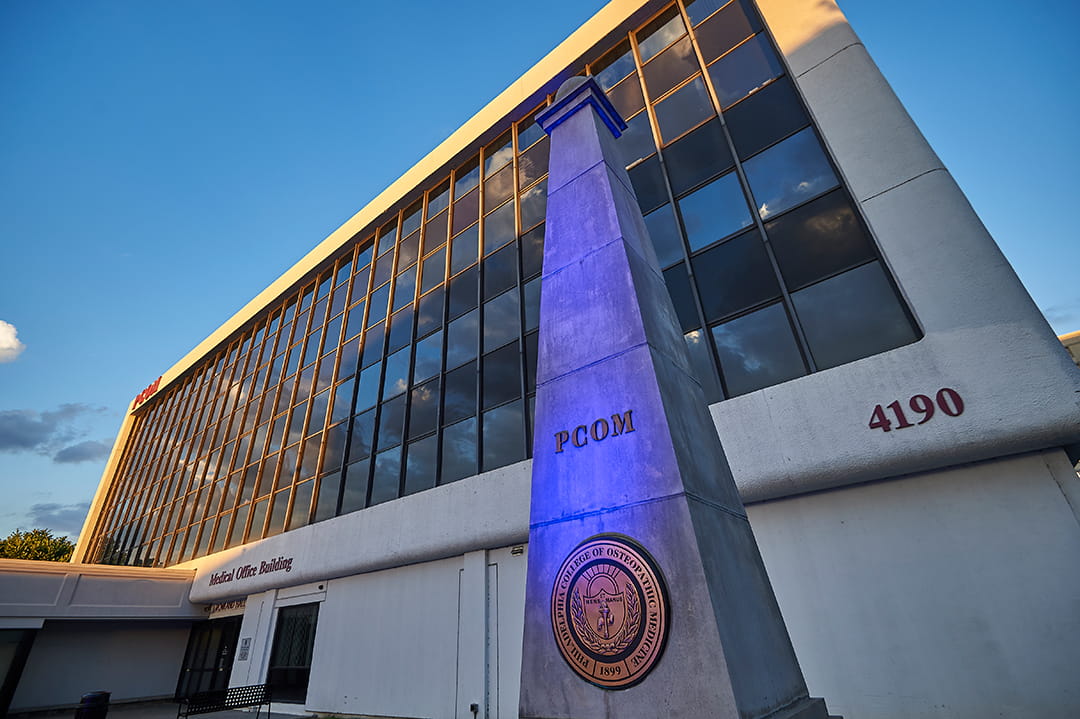 Philadelphia College of Osteopathic Medicine
My name is Brooke Chapple, and I am a third-year medical student at the Philadelphia College
of Osteopathic Medicine (PCOM). I graduated in 2018 from the University of Pittsburgh with a
Bachelor's Degree in Molecular Biology, and then attended graduate school at the University of
Scranton for Biochemistry before beginning medical school. I grew up in a rural area, so I've
always loved finding new ways to stay active outdoors like hiking, skiing, and practicing archery.
Living in cities shifted this active lifestyle to more indoor activities like yoga and going to the

gym. It's no secret that med school is stressful, but staying active and giving myself time to
focus on something outside of school each day has been incredibly helpful to staying sane
through this crazy process. I'm excited to meet other like minded students through Medicine in
Motion, and to also help encourage others to keep their mental and physical health as a priority
during their time at PCOM!
My name is Nnamdi Ilonzo, and I am a third-year medical student at Philadelphia College of
Osteopathic Medicine (PCOM). I grew within central New Jersey and spent a good portion of my
time participating in outdoor extracurricular activities. Currently, in my free time, I enjoy playing
basketball as well as golf. Additionally, I have grown a passion for weightlifting over the past
several years. My involvement in these activities has been monumental in providing balance
and stress relief in my everyday life. I believe that the benefits of being active include not only
physical health but mental well-being as well. I am excited to become a participant in Medicine
in Motion and hopefully impact others towards achieving this important balance.
My name is Rodney Morrison Jr. and I am from Swedesboro, New Jersey. I am currently
a second-year medical student at the Philadelphia College of Osteopathic Medicine
(PCOM) located in Philadelphia, PA. I graduated from Rowan University with a
Bachelors of Biological Science and later received a Master's degree in Biomedical
Sciences at PCOM. I have always had a passion for fitness that began at a very young
age. Whether it was running from base to base, endzone to endzone, across the finish
line or simply weightlifting with friends, exercise has always been an important aspect of
my life. I soon realized that staying active provided powerful medicinal effects allowing
the body to in some instances heal itself. It is this philosophy of marrying exercise and
medicine that I look forward to bringing to the Philadelphia area with my Mediciine in
Motion team.
My name is Russell Boston and I'm a third-year medical student at Philadelphia College of
Osteopathic Medicine (PCOM). My favorite sports growing up were football, basketball, track,
and bowling. Following the end of my football career at the College of Wooster I used my extra
time to explore my fitness interests outside of just sports-specific training. Since then I have
fallen in love with hybrid resistance training using calisthenics, weightlifting, and plyometrics, to
get stronger, more mobile, and gain the ability to move my body through space. Fitness is both
my lasting connection to athletics as well as my biggest source of daily stress relief. I'm excited
to bring Medicine in Motion to the PCOM community and Philadelphia area to make fitness
more accessible and to support wellness and community building centered around movement,
the greatest gift this life has to offer!
My name is Steffany Moreno and I am an OMS-III at Philadelphia College of Osteopathic
Medicine (PCOM). I spent a large part of my childhood and young adult life in warm climates so
outdoor activities quickly became my favorite way to pass time. When I moved to New York City

for college (Columbia '17), hiking and beach-going were pretty much out of the question, so that
was where I discovered my love of indoor activities such as dance, yoga, barre, weightlifting,
indoor rock climbing and spin classes to name a few! Throughout my time in higher education
regular movement has played a huge part in helping me stay both mentally and physically
healthy. I'm passionate about fostering balance and wellness in the medical community and look
forward to seeing what we can accomplish at PCOM and in the greater Philadelphia community
through Medicine in Motion.